Kismet has been readings the cards since 1990, while trying to figure out what to do with her life after college. Well, here it is 12 years later and she's still learning. What she has picked up along the way is a little insight into how people work and helps them to find their own path.
With some humor and hopefully good advice, she reminds people that the answers are within themselves so don't be afraid to look inward first.

For a private reading with Kismet or if you have any questions regarding the website, please write her at: kismetchck@aol.com.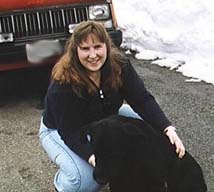 Karma was introduced to Tarot by Kismet over a decade ago (once again, it's Kismet leading Karma astray and darn if they aren't both getting old!). In recent years, Karma has developed an interest in reading runes as well as the tarot cards, and discovered new worlds opening to her. In continuing her association Kismet, Karma hopes that other folks will be able to reach a great vision of the path they walk. Besides, Karma (she of the Taurean demeanor) is always interested what path Kismet (she of the Oh-So-Gemini leanings) is heading down next. 

If you would like Karma to provide a private reading of Tarot or Runes, please contact her at keltickarma@yahoo.com.